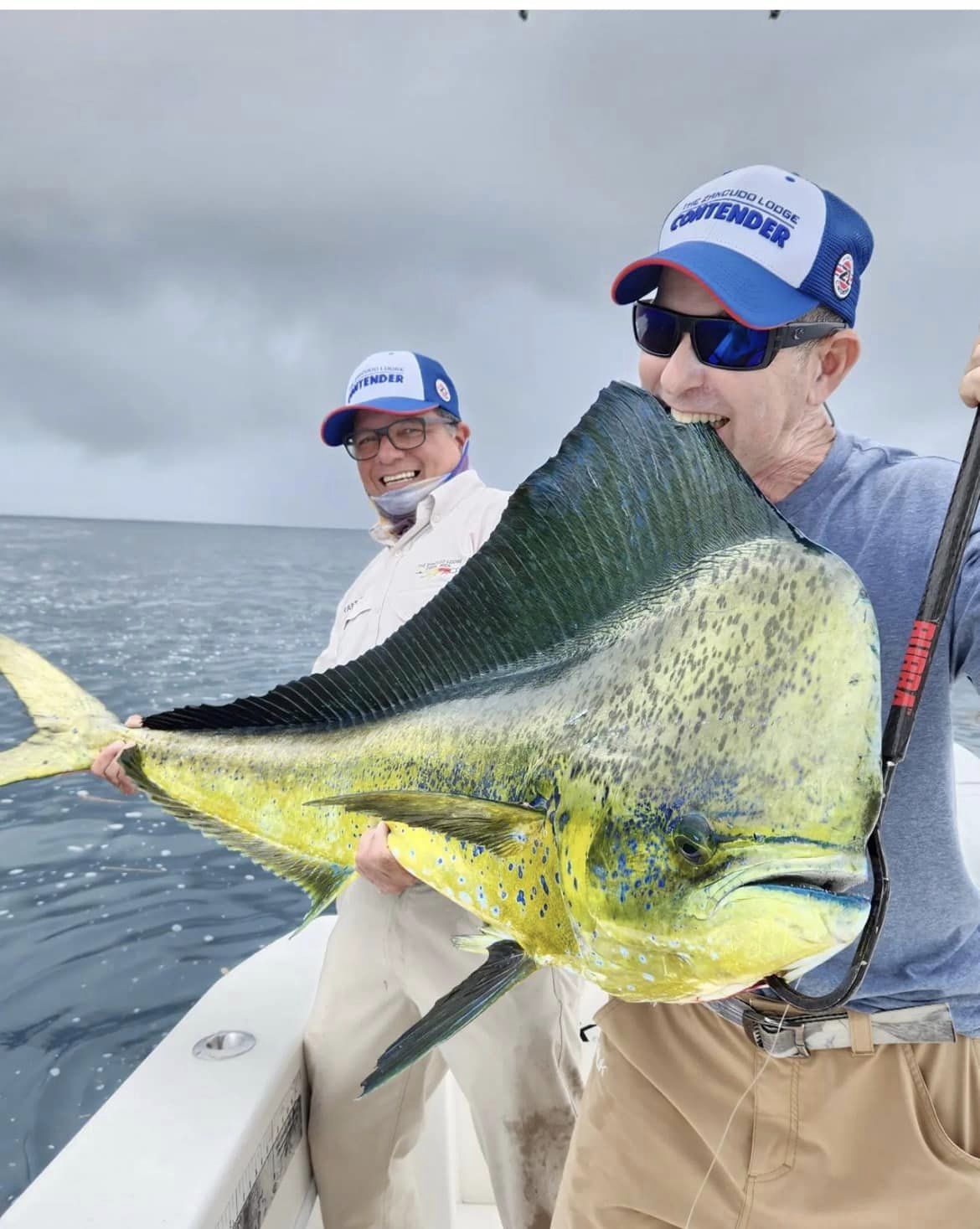 Bring on the Dorado: Happy Thanksgiving from The Zancudo Lodge!
Bull dorados and Heavy weight tuna show up for thanksgiving

Doors open to anglers in December – the good dorado and tuna bite Continues
The staff and owners will be celebrating this Thanksgiving with lots of bull dorados and tuna as they work tirelessly to get the lodge in tip top shape for our December opening.
This past week has been great practice for our A-Team captains as they were able to warm up for the upcoming Huk Triple Crown fishing tournament in early December.
November and December are historically great months for lots of dorado, tuna and marlin. In late November, the last of the "low season" rains washes debris out of the rivers and streams creating the perfect cover for baitfish which in turn attract lots of hungry dorado and other predators like marlin.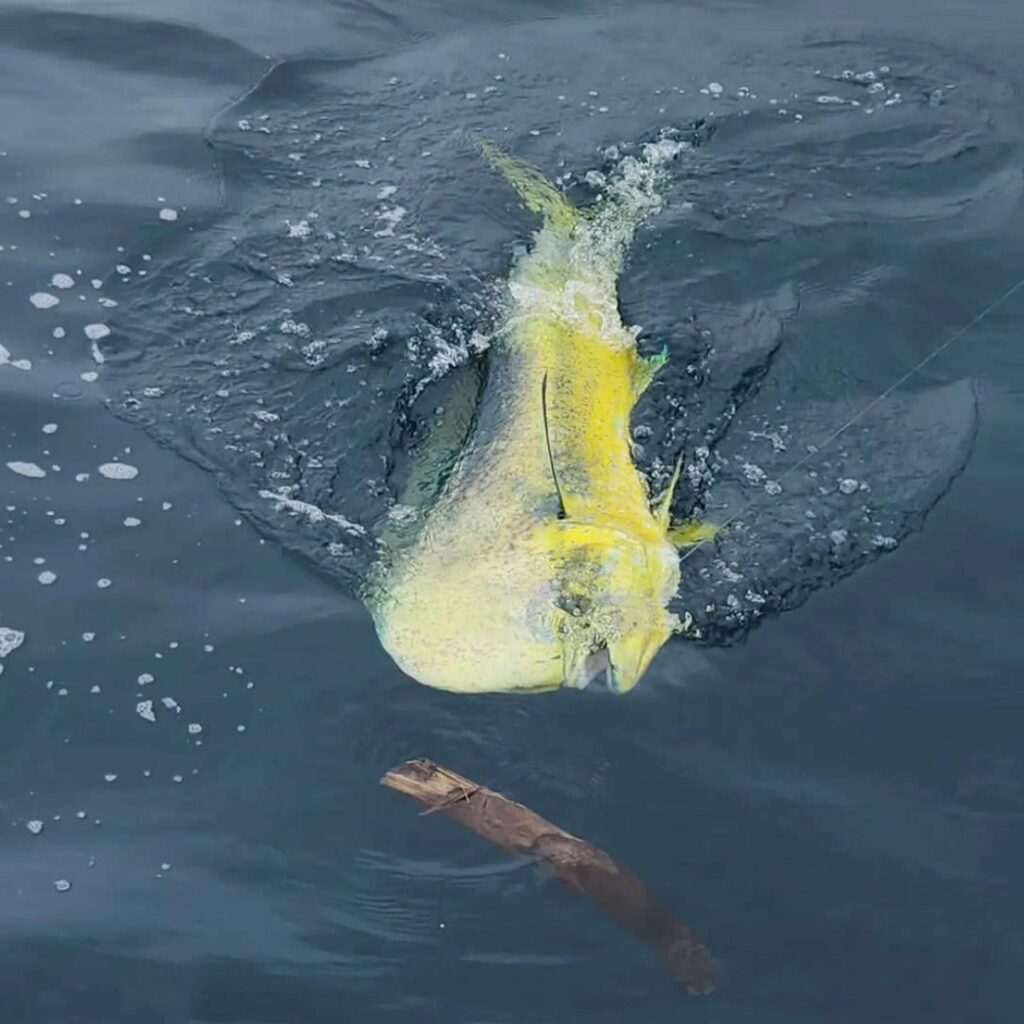 Dorado are the fastest growing fish in the sea and are voracious predators and will eat almost anything making them an easy target for anglers. Also referred to as Mahi Mahi (meaning strong in Hawaiian), these fish are great fighters and put on an amazing show complete with high flying aerial acrobatics. They also make for amazing table fare and can be prepared several ways including ceviche and even sahsimi. Given that it's Thanksgiving week here in Costa Rica, you can't ask for a better haul of fish for the table!
Dorado Quick Facts
Dorado are the fastest growing fish in the sea
Male dorados are called "Bulls"
Can grow over 4ft their first year
Can hit speeds of 40MPH
Highly migratory
IGFA world record 88LBS
Also called Mahi Mahi or dolphin fish
Need to constantly eat to satisfy their ultra high metabolism making them fairly easy targets for anglers
dORADO ATTRACT MARLIN
When we see debris on the ocean's surface, a quick live bait trawl usually produces instant results as the newly formed food chains and other activity caused by the rains and floating debris also bring in the hungry marlin who snack on dorado like Christmas candy. All these elements create the perfect storm for our early December Huk Triple Crown fishing tournament we've been hosting for nearly two decades.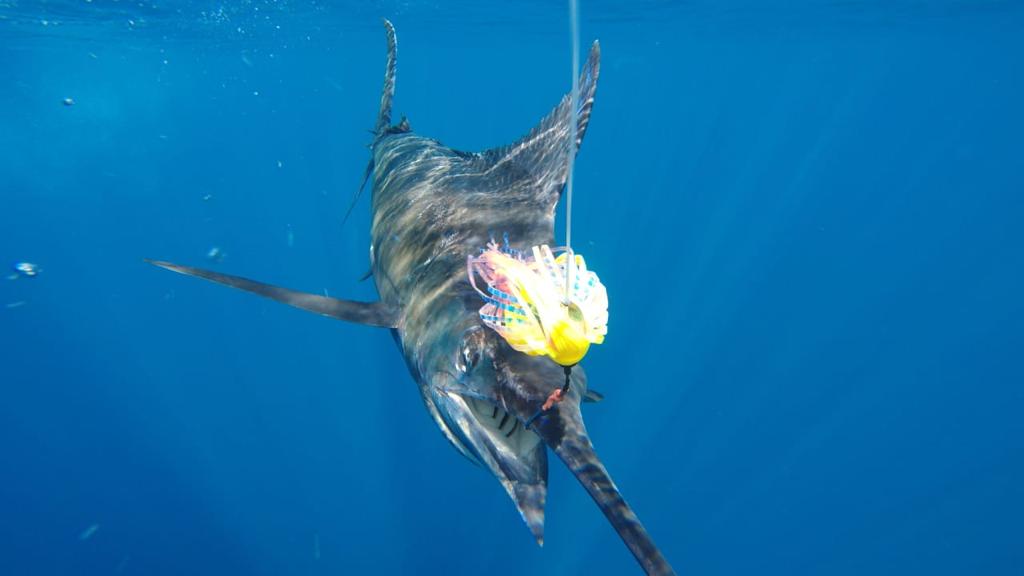 The Triple Crown tournament is comprised of  inshore (roosterfish), Offshore (sailfish, marlin, spearfish), and game fish (tuna, dorado, wahoo) categories with the winning team having caught the largest fish in all three categories. Anglers from around the globe join us to participate in this awesome event.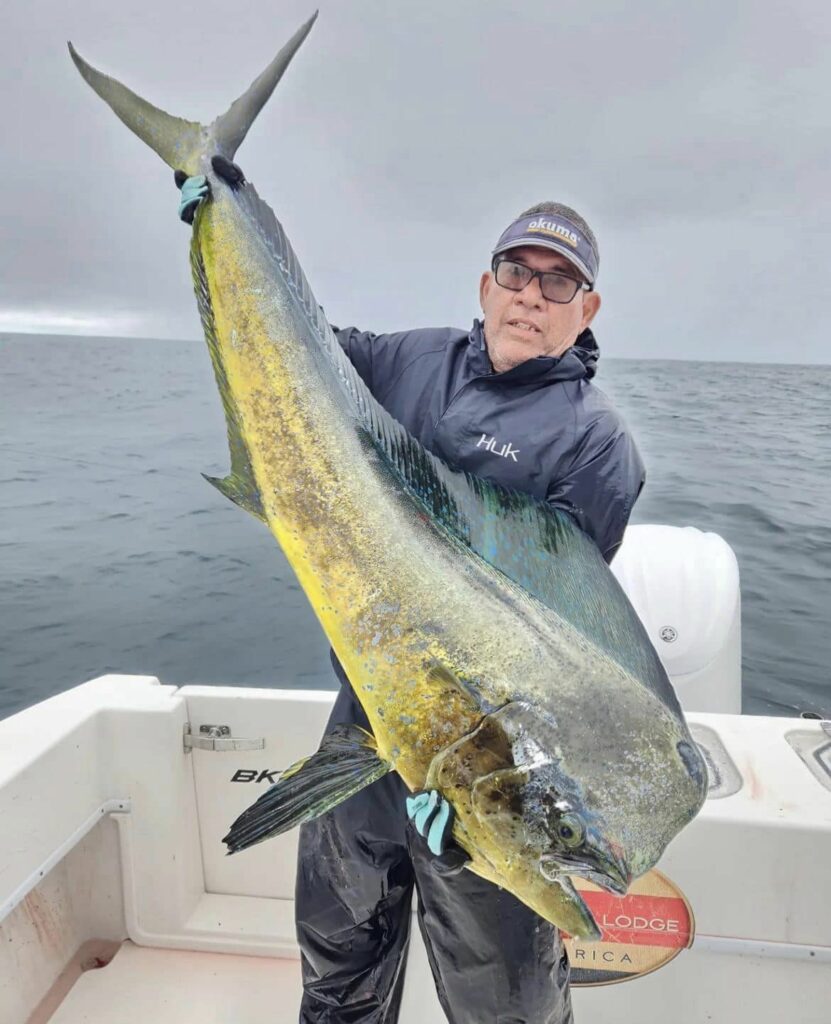 This week, to prepare for our season opener, we went out on some practice runs and had an amazing day with Dorado bringing in several large bulls.
Although we got wet, the tuna bite was also on fire  as we hooked up with some nice sized individuals and were rewarded with steaks and sashimi. If you haven't watched yet, please check out this new video featuring sport fishing at The Zancudo Lodge Costa Rica.
Enjoy Costa Rica's #1 Sport Fishing Lodge in 2023!
Along with the great fishing you can expect to find accommodations that rival five star resorts anywhere in the world. Our seaside Gamefisher restaurant and saltwater filtered pool overlook three miles of exotic beach in front of the awesome Golfo Dulce (Sweet Gulf). The owners have spent the last several months updating the rooms, facilities and the menu and are about to add a surprise addition to their fleet of high-end 32′ Contenders.
Although most of our guests visit for the fishing, we have designed an amazing selection of customizable Costa Rica eco tours for your non fishing days that will give you a chance to see some of the amazing wildlife or take in some adventure or culture in Costa Rica's amazing Southern Zone.
Our lodge fills up quickly, so please check your dates asap to secure your place at Costa Rica's #1 Rated Sport Fishing Lodge and Resort!
Have a happy and safe Thanksgiving with family and friends!

Pura Vida,
The Zancudo Lodge
You may also like to Read: