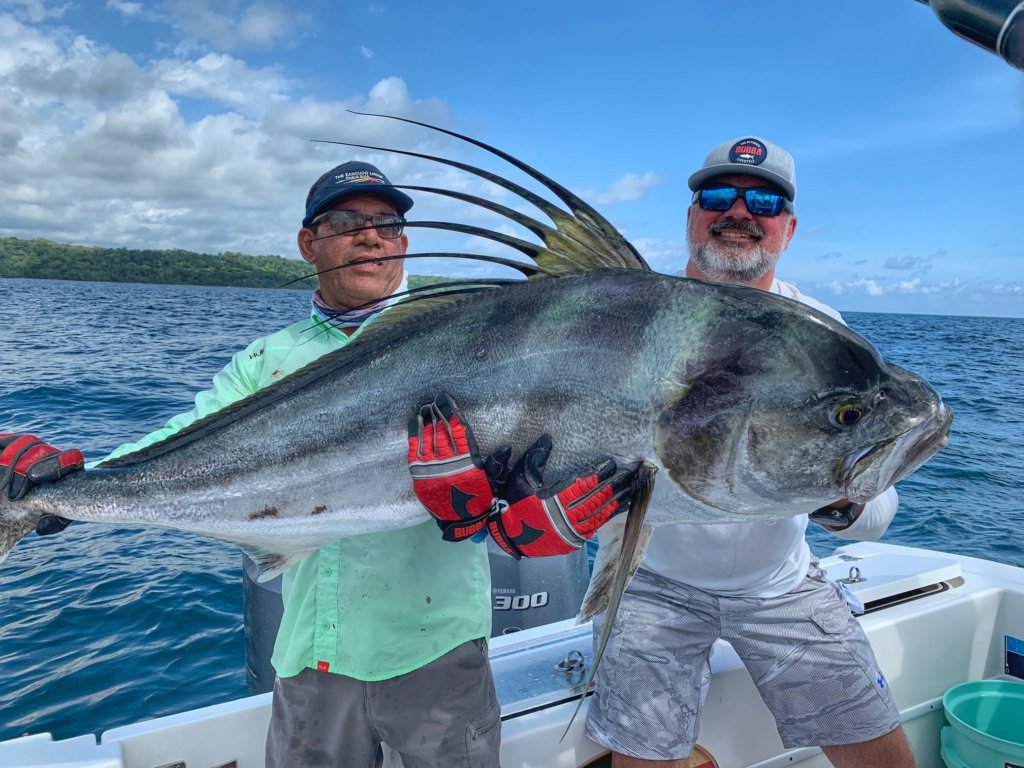 VIDEO: All About Catching Roosterfish
All About Fishing for Roosterfish in Costa Rica
Fishing for free range roosterfish in Costa Rica's Southern Zone
FEATURED Video: Inshore Fishing for Roosterfish in Costa Rica
Roosterfish: The Ultimate Inshore Battle
Often referred to as the king of inshore fishing species, the roosterfish has earned its position atop the list of "sought after" inshore species and this should come as no surprise. Pound for pound, this may be the world's best inshore fighting fish and anglers seeking a new saltwater fishing experience flock to Costa Rica annually in search of the ultimate inshore fight.
It may be the unusual plumage or comb in the form of a seven spine dorsal fin that initially attracts anglers to this species, but once you tangle with one, you'll soon find out that good looks aren't everything. The fact that this fish cannot be found in US waters is just another of the many factors that add to the mystique of the roosterfish.
Although many people think roosterfish are related to jacks, they are not. In fact they are the only member of their genus and species and share no relation with the jack. These fish average 15-20lbs in the waters surrounding our lodge, but we see big birds at 35-50+lbs a couple of times a week. Just like other birds, these tenacious water fowl have the ability to take to the air at any given moment making their avian namesake even more appropriate. With their streamlined racing stripes and high flying acrobatic displays, the roosterfish is almost guaranteed to help you take advantage of that new high-end camera or GoPro you've been dying to break in.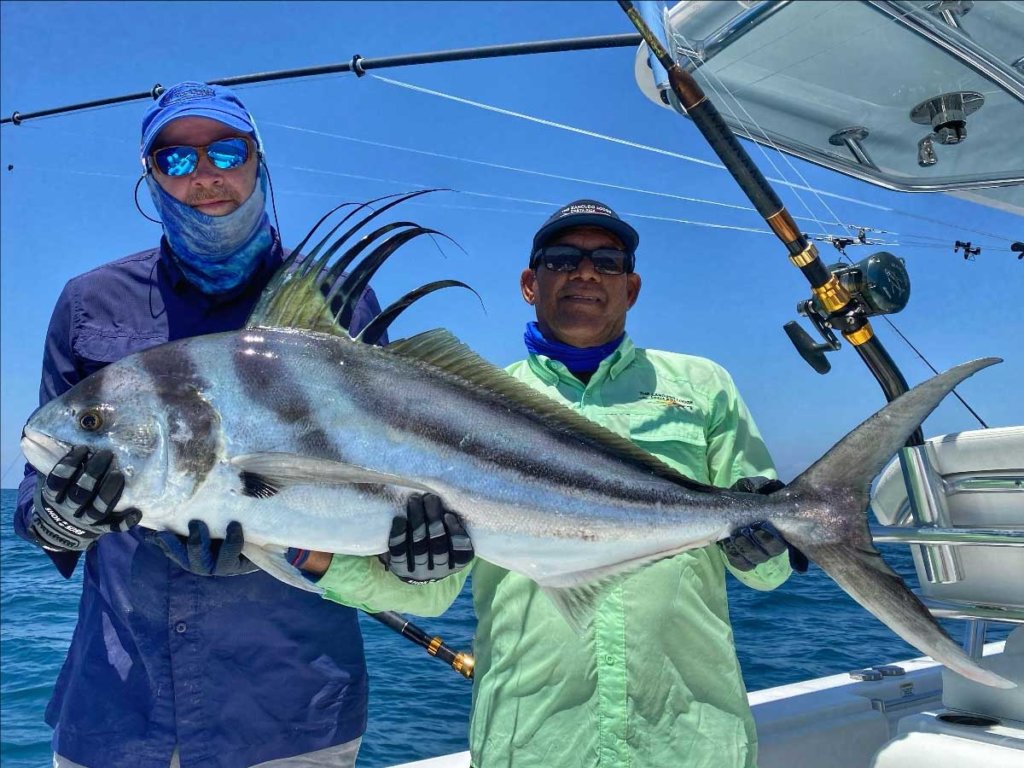 When to Catch Roosterfish
Roosterfish are available year round in Costa Rica  and they seem to prefer clean water so they are more abundant in Costa Rica's peak or dry season (Dec-April) when the rains don't muck up the water as much. Although many a persistent angler has tried to catch these fish on the fly, it is a difficult task (but not impossible) and we've had a handful of people pull it off at the lodge. We invite you to come and try for yourself if you're up to the challenge.
The most reliable way to catch a rooster is free spooling with live bait when the tide is changing but these fish can be caught using a variety of techniques. Most anglers will agree the most exciting way to bag one of these feisty birds however is on the popper. Watching a roosterfish hit and then turn on a popper as he tries desperately to "fly the coop" is something special. Our captains have been fishing these inshore waters for years and know all the local haunts where these fish tend to roam.
Another great aspect of the fight with the roosterfish is the sheer tenacity of this fish. They just don't give up easy. Even smaller roosterfish will appear to surrender after they get to the side of the boat for the first time only to send your reel into scream mode, forcing  you into a second, third and sometimes fourth round of action before finally giving up.
Roosterfish do not have high quality meat for the table and in Costa Rica they are strictly a catch and release fish. Due to the fantastic positioning of our lodge on Costa Rica's Golfo Dulce (Sweet Gulf), anglers have the opportunity to fish for roosterfish early before heading offshore for billfish or tuna. Of course if you love inshore fishing, there are plenty of other exotic species to pursue after you get your first rooster including: Cubera snapper, bluefin trevaley, African pompano, jacks, and about a dozen other varieties of snapper.   If you're interested in experiencing the thrill of roosterfish for yourself, check availability online or for more information check out our fishing packages here.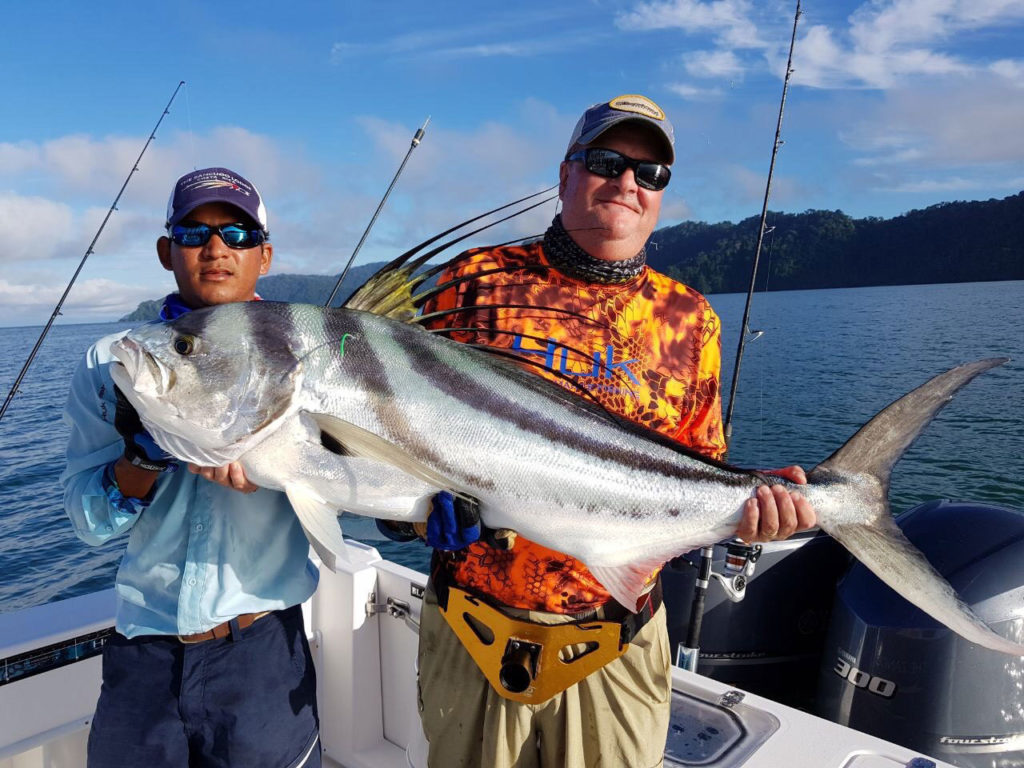 Roosterfish Facts:
The swim bladder of the roosterfish penetrates through the large foramina which it uses to amplify the sounds in his surroundings. They are the only fish with this feature.
Roosterfish are the only member of their genus and species and are not related to jacks
Roosterfish average 15-20lbs but get much larger
The IGFA world record for roosterfish is currently 114 lbs. and 4 ft. 4 in.
Roosterfish are available year round in Costa Rica
Roosterfish are a catch and release only species in Costa Rica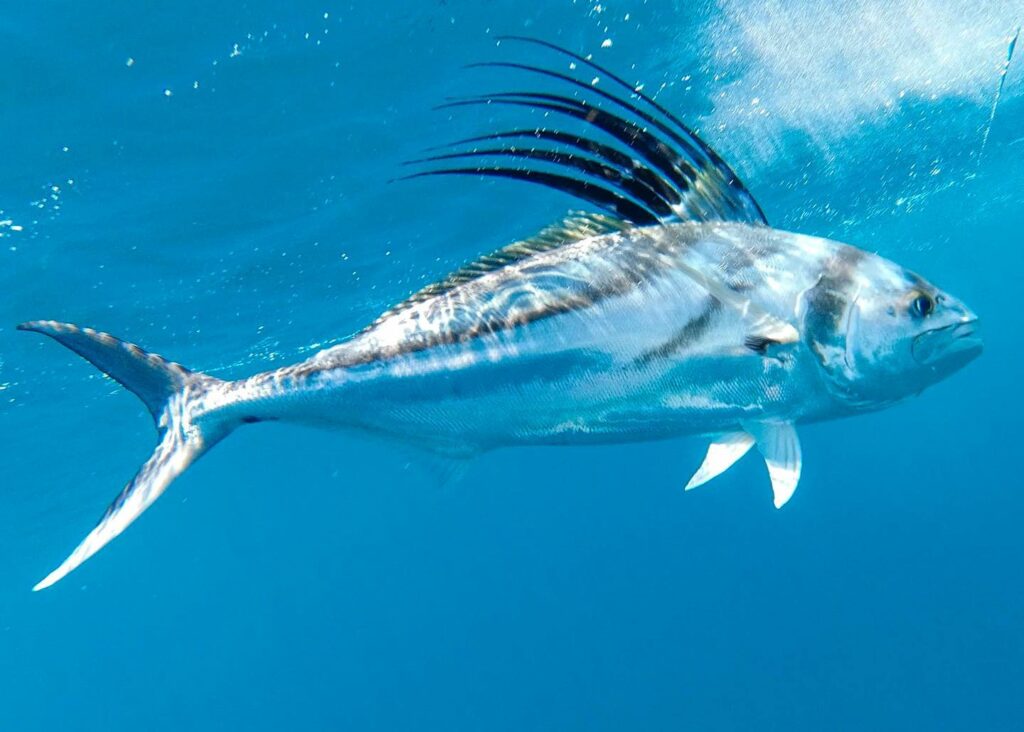 Conservation notes: All roosterfish at The Zancudo Lodge must be released. After a quick photo opportunity, the angler should get the fish back in the water as soon as possible as the fish's organs are under pressure when removed from their buoyant environment. Fishing gloves should be worn at all times while handling these awesome fish. For more information on fishing regulations, species and conservation initiatives in Costa Rica vist fecop.org