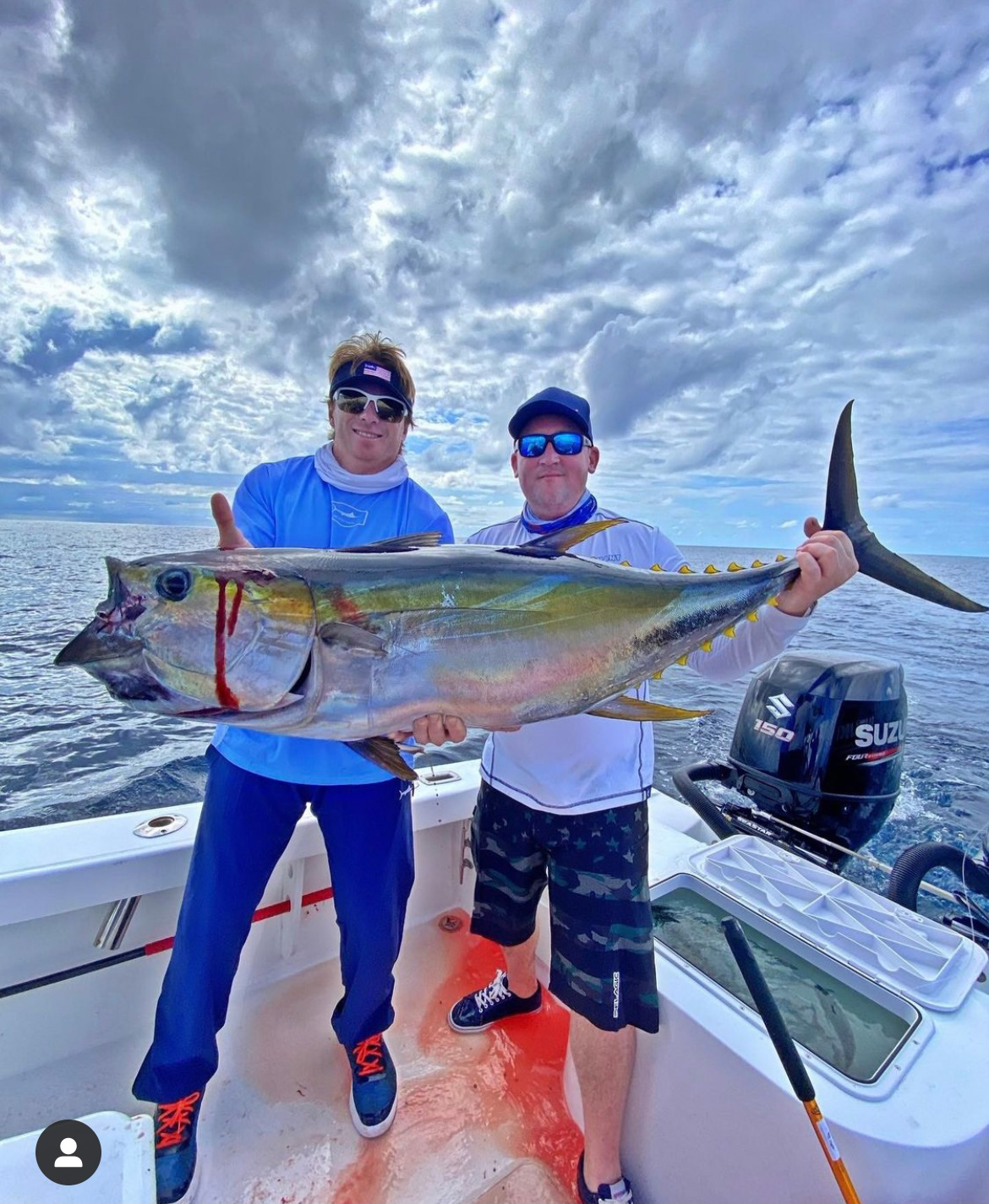 Catching Tuna in Costa Rica
Go Underwater with a school of yellowfin tuna

Have you ever wondered what's going on under the boat while fishing for tuna?
Swimming with Giants – In the video above, The Zancudo Lodge owner Gregg Mufson jumps in a school of large yellowfin tuna to get some amazing video footage
Catching a big yellowfin tuna  alongside a superpod of spinner dolphins in Costa Rica is an experience most anglers only dream about. Fishing for tuna is an all out slugfest that can last several rounds and test even the strongest angler's arms and lower back. For some, catching a tuna over 200lbs, also known as a cow, ranks even higher than catching and releasing a blue or black marlin. At The Zancudo Lodge in Southern Costa Rica, we have turned the process of finding, pursuing, and catching these powerful giants into an art form.
Just being in a boat in Costa Rica's remote Southern Zone is a surreal experience on its own. With the volcanic coastline all around and the vast rainforest covered mountains stretching as far as the eye can see, you will feel that you've been transported back in time to some other primordial world. The words "Jurassic park" have been uttered by past guests as they fly into the mountainous Golfito airstrip and descend into the magic of this mystical emerald forest for their first time.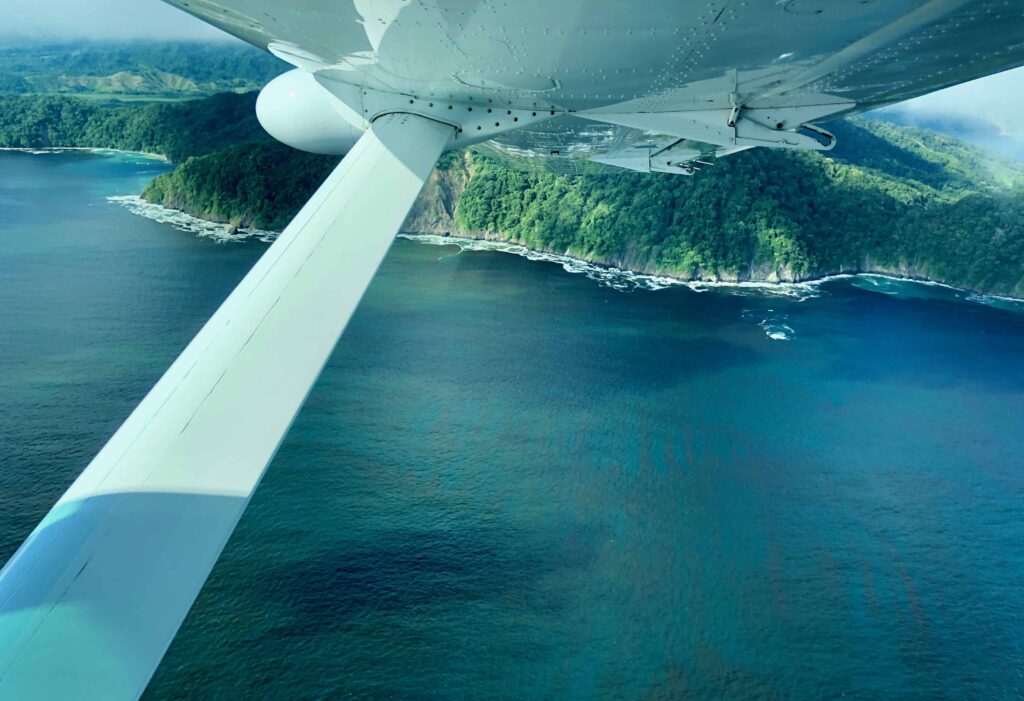 Finding the Tuna
Your adventure begins as we exit the calm waters of the scenic Golfo Dulce (Sweet Gulf), one of four tropical fjord systems in the world and head offshore. It's only 30 minutes to the offshore hunting grounds from our lodge and then the hunt for big tuna begins.
We start by locating porpoises using our state-of-the-art radar system. We can find the pods up to five miles out, so the combination of our boat speed with dual 300HP Yamaha's makes the chances of locating spinner dolphins holding tuna very high. The porpoises and tuna feed on the same baitfish so when you find the dolphins, you find the tuna. Although there are several kinds of porpoises in Costa Rica, typically only spinner and pan tropical spotted dolphins signal an excellent tuna bite.
Within minutes of picking up the dolphin and bird movement on radar and arriving on a pod of spinners, anglers will start to see the first high-flying dolphins on the horizon accompanied by dive-bombing birds and baitfish creating a boil on the surface. It's almost as if you've just arrived at Poseidon's very own Cirque du Soleil as the ocean's surface comes alive with activity.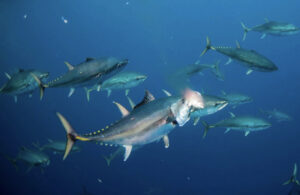 Superpods of spinner dolphins are composed of thousands of members and what you see on the surface is usually only 1/3 (or less) of the total number of individuals. Soon anglers will start to see the tuna exploding from the water like popcorn on a hot skillet as the excitement on the boat intensifies. When the tuna are this close to the surface they will eat almost anything you pitch… so if your goal is to get one on the popper, this is probably the best chance you'll ever get.
As we trawl just in front of the passing porpoises, it is only a matter of time before one hits. These yellowfin average between 40 and 100lbs with the big boys hitting the lines a couple of times a week. Our captains have been finding and catching tuna in these waters for decades so they will guide you every step of the way. When you couple their experience with our premium 32′ Contender boats, engines, radar, and gear, the probability of success is very high.
Friday Night Fights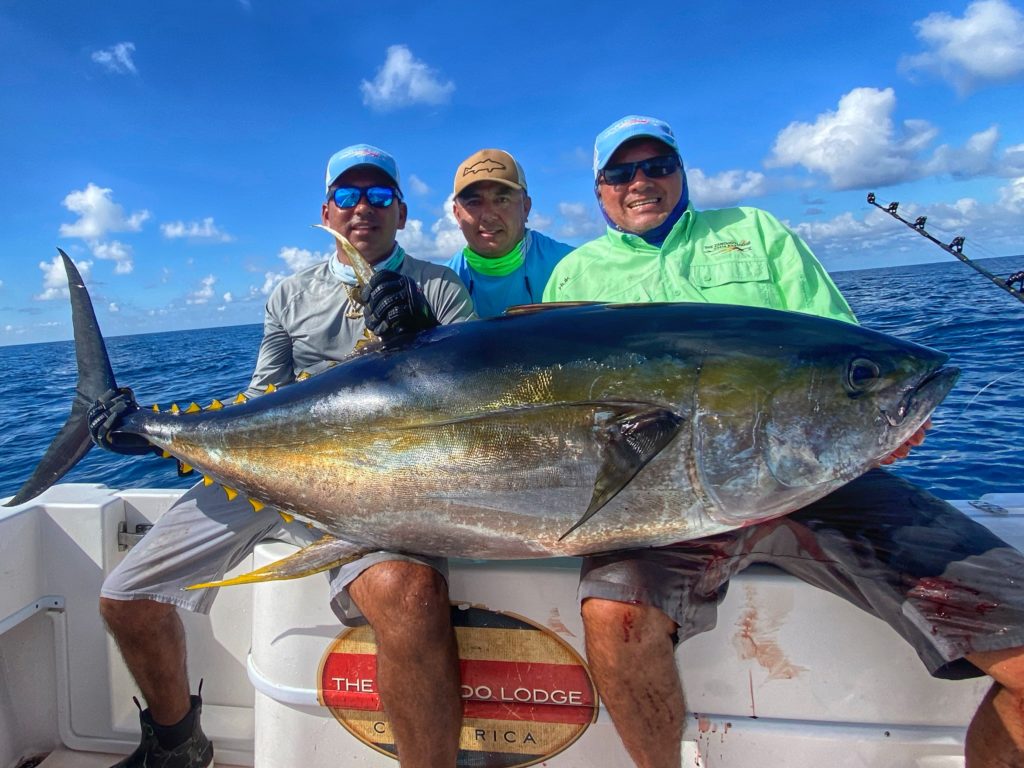 Once you hook up with a yellowfin tuna, the real challenge begins. Unlike marlin and sailfish, yellowfin dive straight down in an effort to escape the clutches of eager anglers.  This is where good technique is a must because if you try to catch this fish with your arms you will lose.  You will need to rely on your lower body, the harness, and rod technique to outlast a big tuna on what will soon become  a 12 round fight. Most anglers are shocked when they think the fight is over only to feel the big fish starting to take line as he dives back 20 feet or more into the shadowy depths. Catching tuna is not always a struggle and catching football sized individuals on light tackle is extremely fun.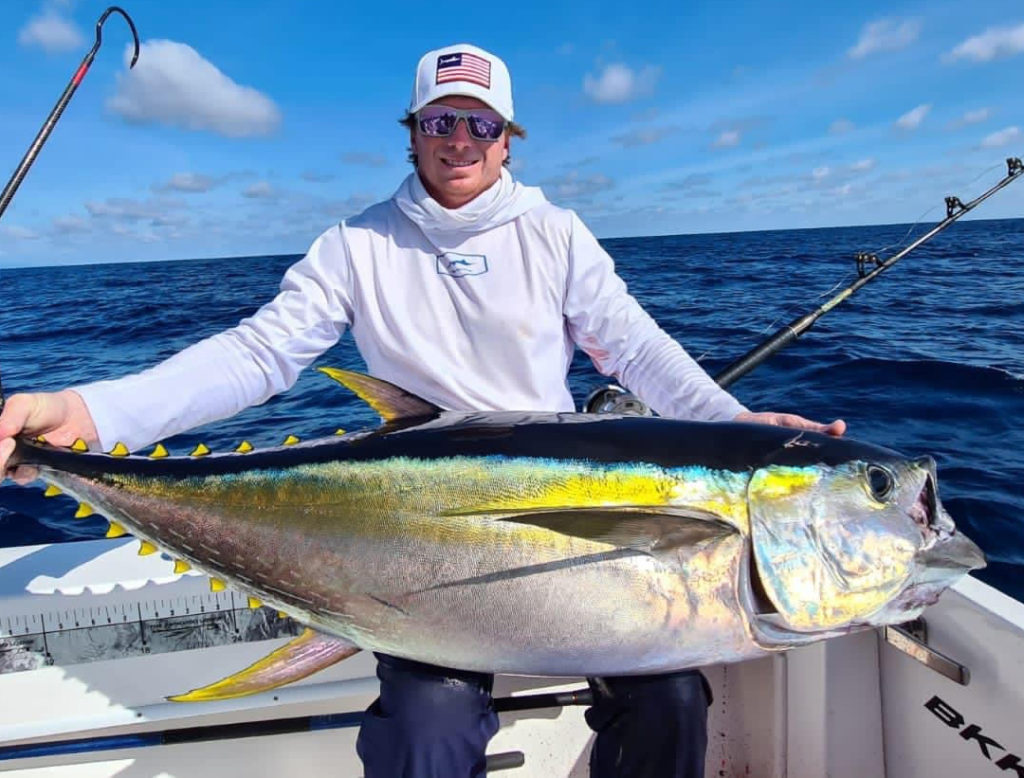 The prize for your hard fought fight makes the effort well worth it.  Sushi grade sashimi and massive seared steaks shared with friends and family as you recount the story of the big fish that almost pulled you overboard make it all worthwhile. We're pretty sure you'll also be able to invite all the other guests at the lodge to fresh steaks too as a big yellowfin tuna can literally feed a village.
Doors open in December of 2022, so if Yellowfin tuna is on your bucket list, The Zancudo Lodge is the place to be.
Conservation Note – Thanks to a new law passed by the Costa Rican government this year the tuna bite should be better than ever! Commercial tuna seiners are no longer allowed within 80 miles of the coast. Read more about the tuna reform in Costa Rica at fecop.org