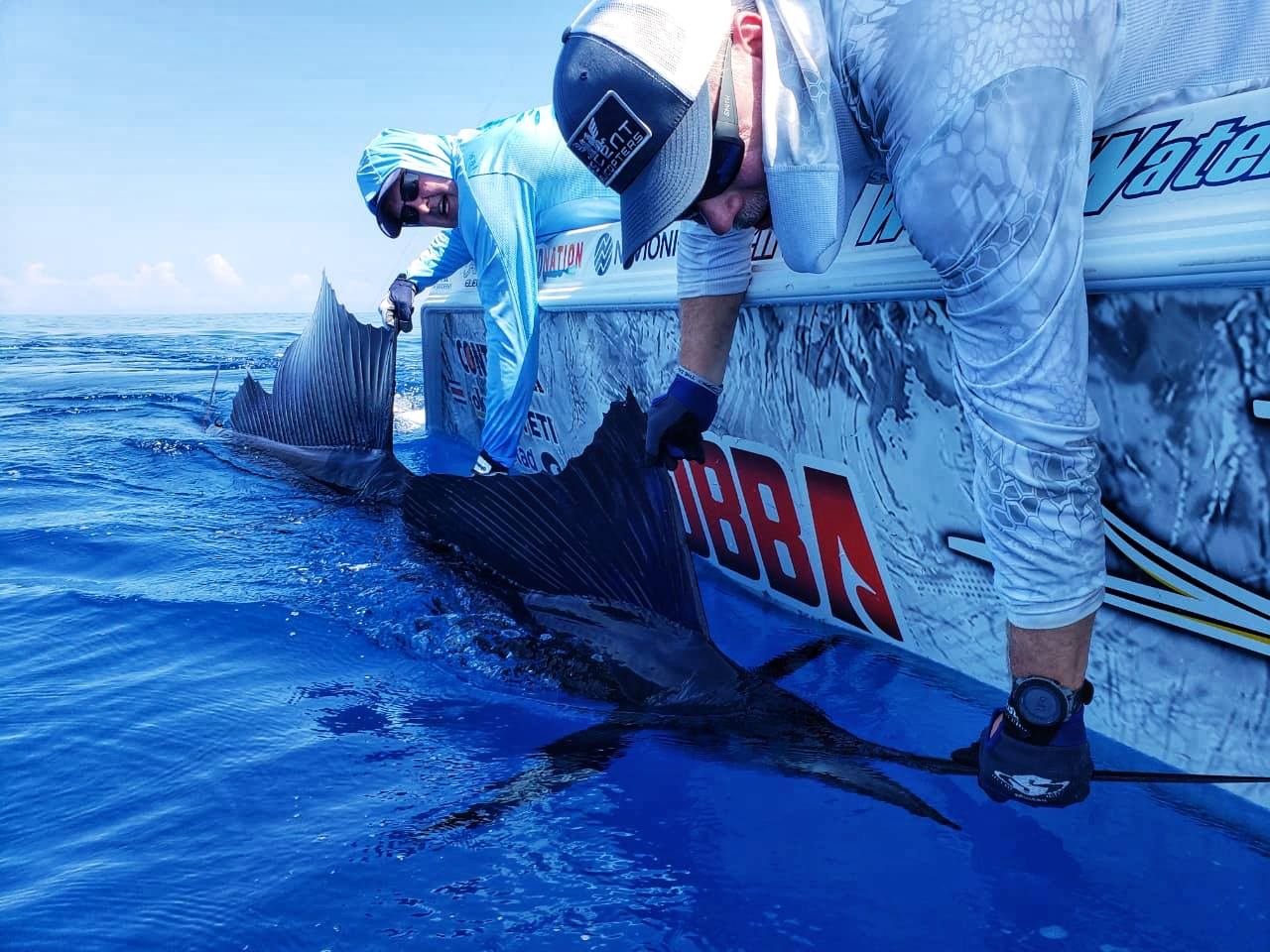 When to catch Sailfish in Costa Rica
When to Catch Sailfish in Costa Rica and Other News from The Zancudo Lodge
Below we field your questions about Sailfish in Costa Rica
Fishing Report August 27, 2022
This month has been all about renovating and updating our facilities as we prepare for another exciting season of sport fishing action in Costa Rica. Even though our lodge is closed during rainy season (June-November), we do charter boats out of Golfito and surrounding areas so visitors to the area may experience charter fishing during the green season.
This past week the tuna fishing has been insane with a good friend visiting and getting to experience the action. If you've never seen a superpod of dolphins while casting for big yellowfin tuna, it is a magnificent sight with thousands of individuals chasing bait and exploding from the water in spinning 360 degree high jumps that would make even Michael Jordan jealous. Seeing large yellowfin tuna jumping and breaking top-water in front of the boat as you scramble to get the popper is nothing short of spectacular. The spinner dolphin feed on the same bait fish tuna love, so when you find the pod of porpoises, nine times out of ten you'll find the tuna. Striped and black marlin also increase in numbers during the summer months which makes this a great time to charter a boat for a day if you're in the area.
Tuna Fishing Photos this past week at The Zancudo Lodge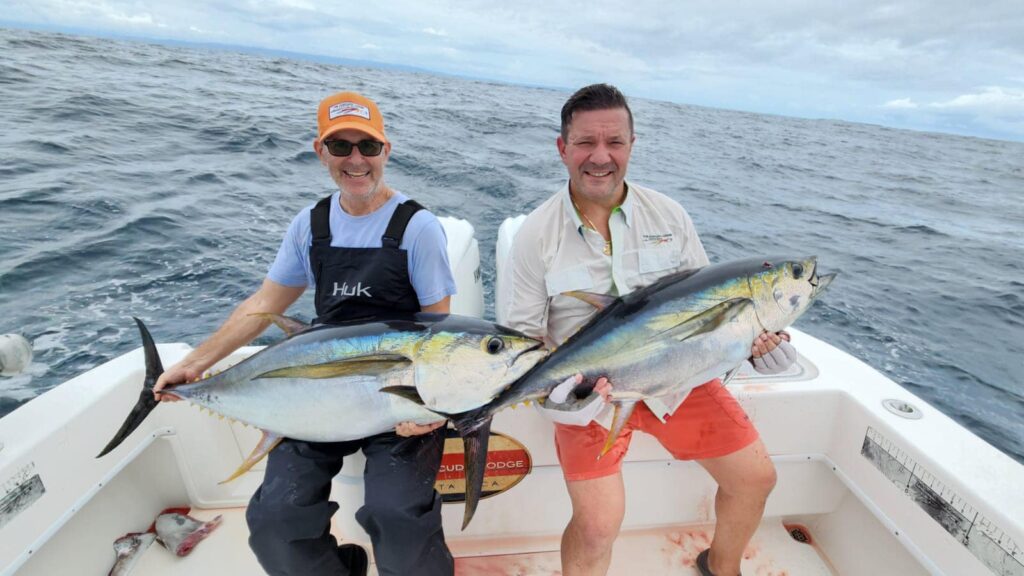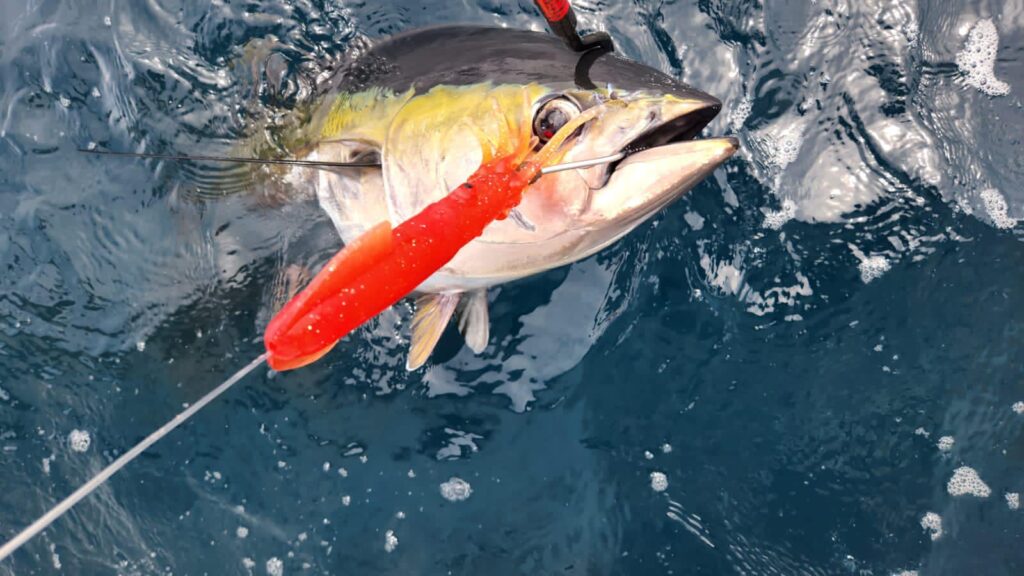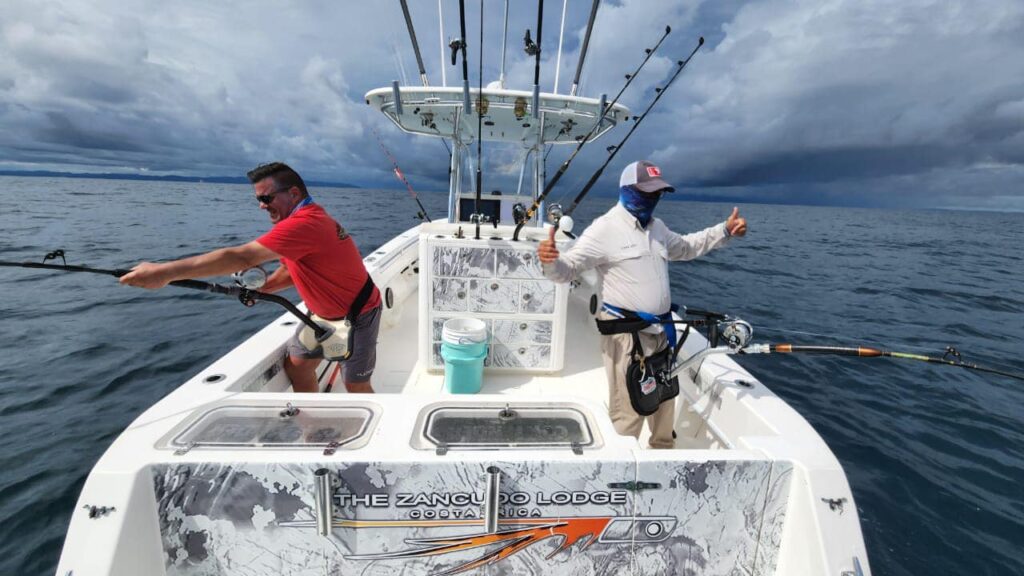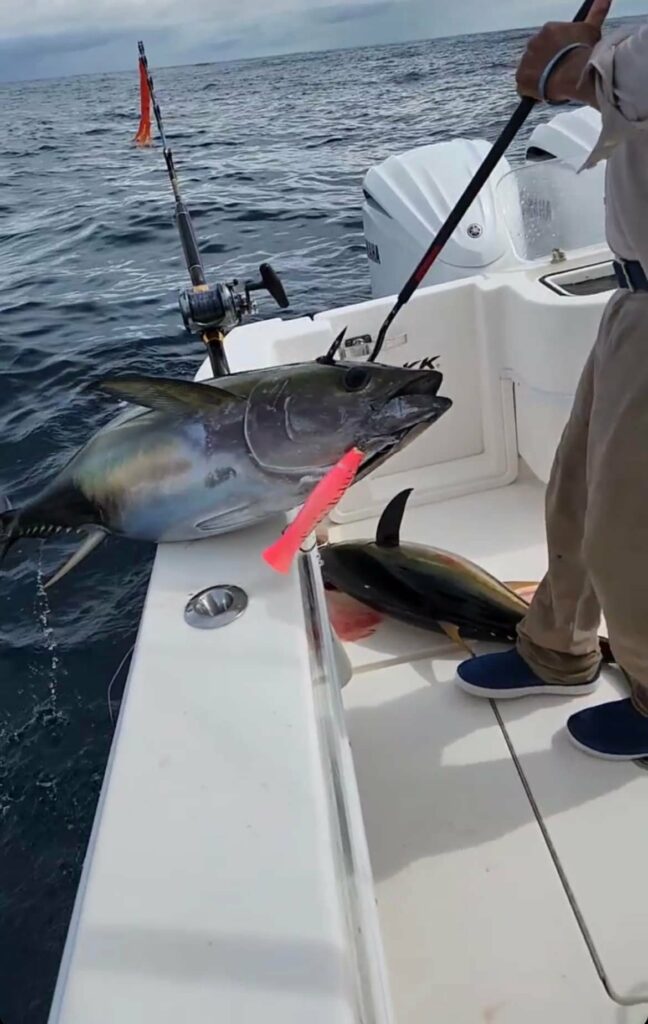 Lets talk about Sailfsh
We always get a lot of questions about sailfish and the best time to catch them in Southern Costa Rica. Sailfish are among the most popular fish to target here as they can be caught on fairly light tackle and they put on amazing aerial performances.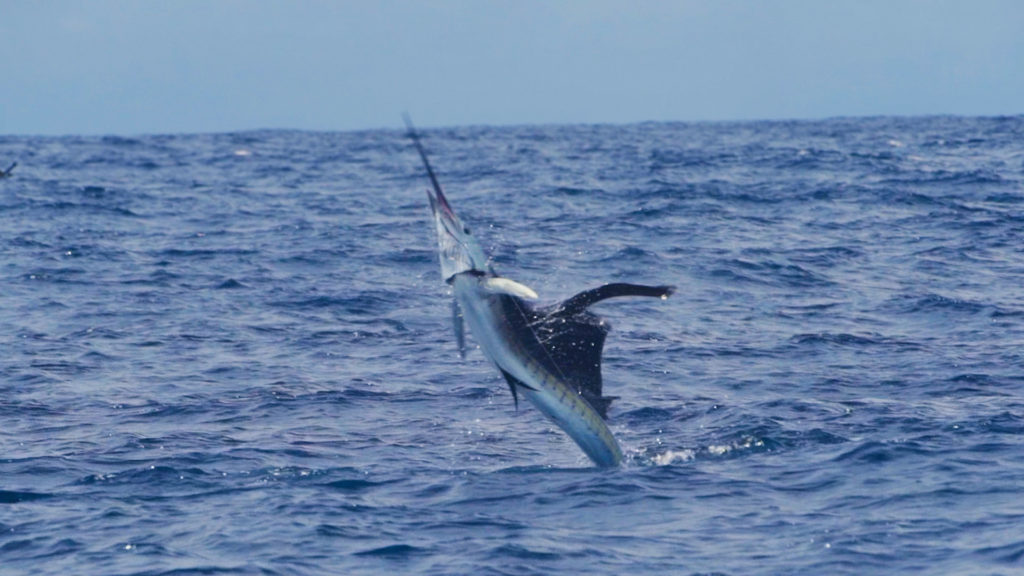 Below we've answered several of the most frequent questions we received and attempted to explain a bit about the best time to catch sailfish in Costa Rica. Just remember, sailfish CAN be caught year-round. Some months however they are found in Costa Rica in larger numbers.
Top Sailfish Questions Answered
When is the best time to catch sailfish in Costa Rica?
Where are these sailfish coming from?
How long do the sailfish stay?
Why do they migrate?

Where Do They Come From?
Sailfish are migratory or "pelagic" fish. They do not reside in "one place" on Costa Rica's Pacific coast year round. The migration story actually starts in Southern Mexico where these fish start out as juveniles . There are a few factors that cause them to migrate – water temperature, oxygen levels, and the need to reproduce. Sailfish are usually moving with currents to find water temperatures around 75 degrees Fahrenheit and oxygen levels that will sustain them and the squid and sardines they feed on. Thanks to the convergence of two major ocean currents, the Humboldt and the California current, sailfish tend to get pushed into oxygen rich pockets up and down the coast of Central America until they are released by seasonal winds. (read more about this phenomenon at fecop.org ) By the time these fish arrive in Southern Costa Rica and Panama in December, they have reached the monster size that anglers love and are much larger than their cousins in Florida. The largest sailfish ever weighed in at 222 lbs was caught just South of us in Panama.
Peak Sailfish Seasons in Costa Rica
In the South, where we're located, these blue water acrobats generally arrive in large numbers in December of each year and hit peak numbers in February and March. They usually stick around until April and sometimes early May and many an angler has become "addicted" to catching and releasing big sailfish here.
Costa Rica has two sailfish seasons with the bite in the Southern region (where we're located) lasting from December to April and in the North (Guanacaste region) peaking after May.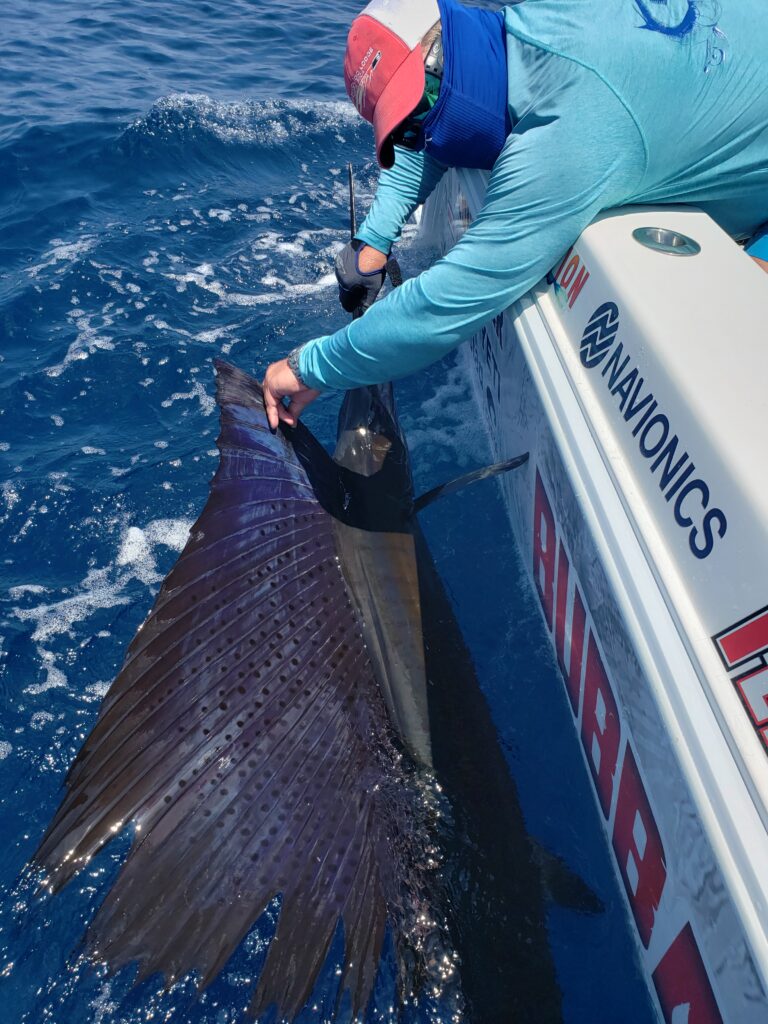 As you may or may not know, Sailfish also hold the title of the" fastest fish in the sea" clocking in speeds of up to 70mph. They live around 15 years and their size, strength, speed and aerial acrobatics make them among the most fun, and adrenaline pumping fish you can tangle with during your Costa Rica fishing adventure. If you want to try fishing for other species of billfish, Costa Rica is also home to a variety of marlin including blue, black and striped.
How to Catch Sailfish
We troll for sailfish using a mixed spread of teasers and dead-bait (with circle hooks) followed by pitching live bait using the bait and switch method. We encourage our guests to pitch their own bait to the sailfish to really get the full experience of the battle. Most lodges will pitch the bait and actually set the hook for anglers and then pass them the rod…but we think this is cheating a little 😉
Our Captains are very good teachers and although it may take you  a couple times to get the "pitch" down, the reward of catching the fish yourself is much better and way more fun to brag about 🙂 At the end of the day however it is up to you, and we can help you set the hook or take the "hands off" approach depending on your comfort level and experience.
Catching Sailfish On The Fly
If you enjoy fly fishing and want to try something new, catching a sailfish "on the fly" may rank as one of your best fishing stories ever. Sailfish love big pink flies and it's a short pitch to place the fly in their line of sight from the back of the boat. Come on down and give it a try!
Doors Open December 2022
When we open in December, we usually see some very good fishing as the winds from the North begin to push out the rain and the marlin are still around in good numbers snacking on the dorado that can be found around floating debris.  In December, catching multiple offshore species in a day is common. If you're looking to experience the world famous fishing that Southern Costa Rica offers, please contact us soon as space is already limited for next season.
Sailfish Conservation
#OperationSailfish – FECOP (The Costa Rica Sport Fishing Federation) is currently lobbying the government for no-sale status of sailfish which will make the sailfish fishing here even better! Years ago they lobbied for and were successful at blocking the exportation of sailfish (for consumption) which greatly improved the sailfish bite. FECOP also championed the law to ban live bait on commercial long lines which was catching billfish. Learn more about FECOP and billfish conservation in Costa Rica here
You may also like these articles: