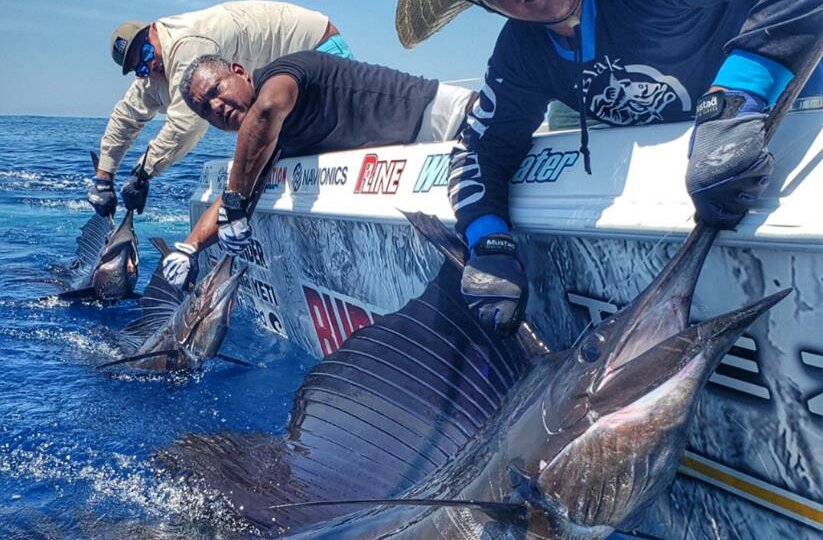 The Last Sailfish Release of 2020
Saying Goodbye to the last Sailfish of 2020 in Costa Rica with a personal sendoff
The Last Sailfish of 2020 at The Zancudo Lodge
Costa Rica is famous for its sailfish bite and tourists flock to its offshore waters year round in search of the ultimate fight. In Southern Costa Rica, home of The Zancudo Lodge, sailfish season starts in mid-December and starts to peak in mid-January getting red hot in February and March. By law, all billfish including sails must be released in Costa Rica as billfish is very  important to Costa Rica's local economy.
Every once in awhile we get a guest who likes to take the release to another level as you can see in the following video. We do not recommend trying this yourself unless you have LOTS of experience. There is a lot of rigging in the water not to mention that as fun as fishing may be from the boat, once you get in the water you're part of the food chain!  We were happy to see this fish and of course one of the harshest years in memory, 2020 gone for good!
Hope to see you soon at The Zancudo Lodge, Costa Rica releasing a billfish of your own!
See the video below
Sailfish Quick Facts
Sailfish are considered the fastest fish in the sea, reaching top speeds of 70 miles per hour.
They are top predators in the open ocean.
The largest individual ever caught was 11.2 feet (340 cm) long and weighed 220.5 pounds (100 kg).
They can live for 13 to 15 years.
In Costa Rica it is illegal to remove the billfish from the water for photos
By law in Costa Rica, all billfish including Sailfish must be released
Costa Rica has banned the exportation of Sailfish meat
Costa Rica is very active in billfish conservation. Local groups like FECOP the Costa Rica fishing lobby to the government pressure the government to restrict the use of commercial fishing practices that harm fish of touristic interests. Most recently purse seine vessels have been forced out 60 to 100 miles from the coast which has lead to a resurgence of sailfish, marlin and especially yellowfin tuna in the coastal waters