What The Anglers Say – Guest Review from January 2021
Thank you for the Costa Rica fishing trip of a lifetime Zancudo Lodge!
Imagine finding a Ritz Carlton in the middle of a lush jungle with three miles of secluded beach front – then adding a private DOCK and a fleet of 32′ Contenders!
This is one of the nicest Costa Rica fishing lodges we've ever visited. If you are fishing the Osa Peninsula this is a must visit. The high-end rooms, restaurant and main resort building make you feel like you're at a Ritz Carlton in the middle of the jungle with three miles of secluded beach right in front of you. The fact that there is a private pier with a fleet of 32′ Contenders with Yamaha 300s and top of the line gear and knowledgeable captains makes this a definite bucket list destination. See our full review below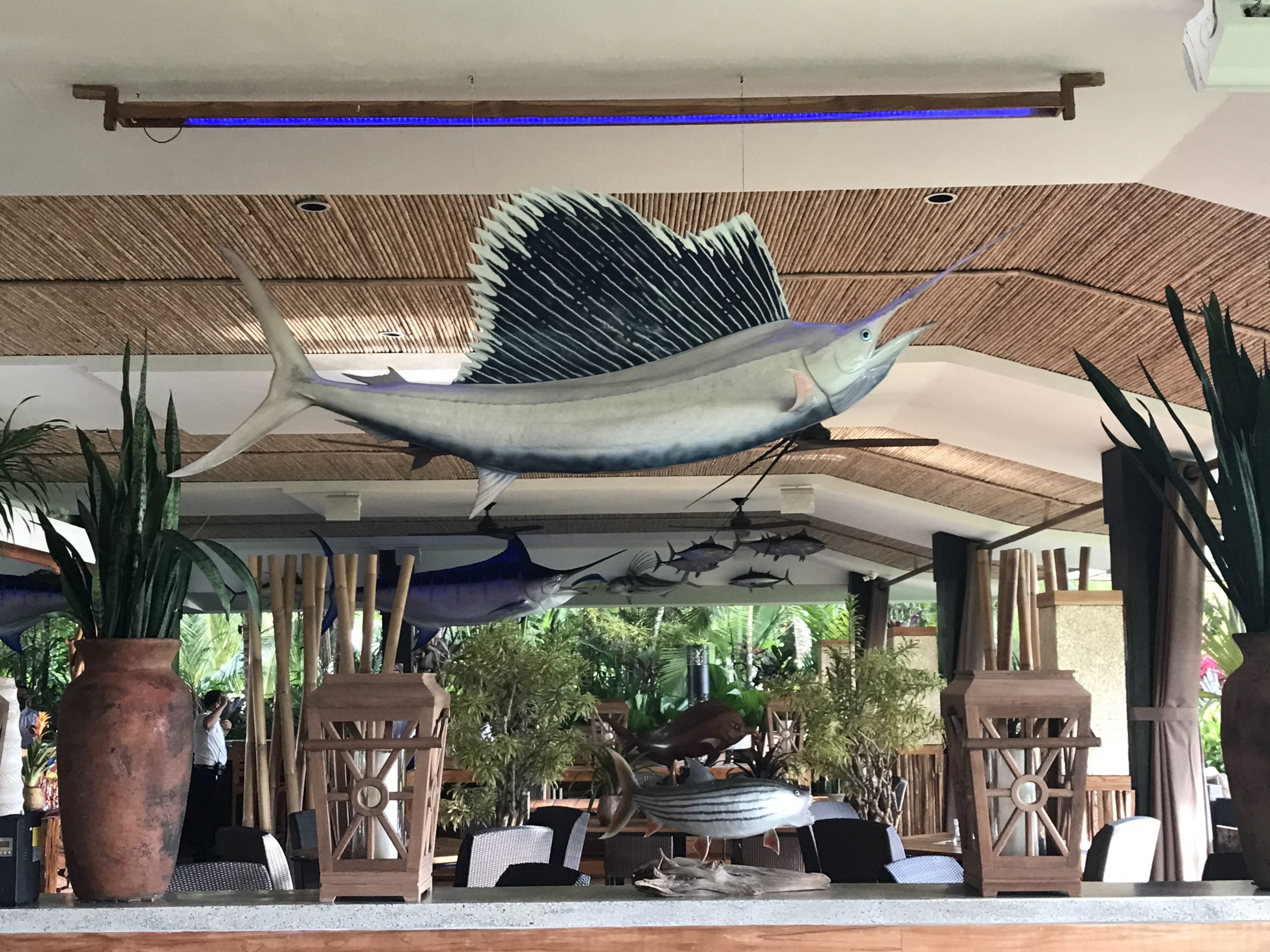 The Zancudo Lodge Experience
Full days of fishing at the Zancudo Lodge are FULL. Starting at 6AM and lasting until around 4pm. The best part is that on fishing days if you are hooked up to your neck in the fish, they are not going to make you come in early just because the clock says 4pm. Coming back from a day of offshore fishing at the Zancudo Lodge is also a great experience. Not only is it an amazingly fast trip home (30-40 min depending how far out you go) with the smooth speed of the newly purchased Contenders with Yamaha 300s, but the lodge itself is elegantly appointed for comfort, style, and relaxation. Upon arrival there are always creative and delicious snacks waiting for you at the pier including gourmet sliders and chips with some of the most amazing salsa ever to brush across your taste buds. Many guests use this time as an opportunity for a dip in the relaxing pool adjacent to the restaurant overlooking the ocean. The stylish oval shaped fully stocked bar is surrounded by replicas of the local fish species and a huge marlin hangs directly overhead in pursuit of small tunas.
The Staff – Authenticity
The local staff leaves you feeling as if you have known each other for years as they always remember your name and have an authentic way of really making sure your treated like not only a king, but family.  There is a very high staff to guest ratio so you never feel like you need to find anyone if you're looking for assistance. Icy cold drinks, fresh towels and other necessities seem to suddenly appear as this staff knows how to anticipate your needs. They are also eager to show you sloths, monkeys, and macaws when they spot them on the grounds.
The people here genuinely enjoy their work and are proud of the resort and the region.  Don't forget a major appeal of this resort is the fact that it is situated in one of the most biologically intense places on Earth (as quoted by National Geographic) at the edge of Costa Rica's famous Corcovado National Park. Wildlife is abundant right at the lodge and there are some day excursions to take in the area on your non-fishing days if you want to see even more of the area.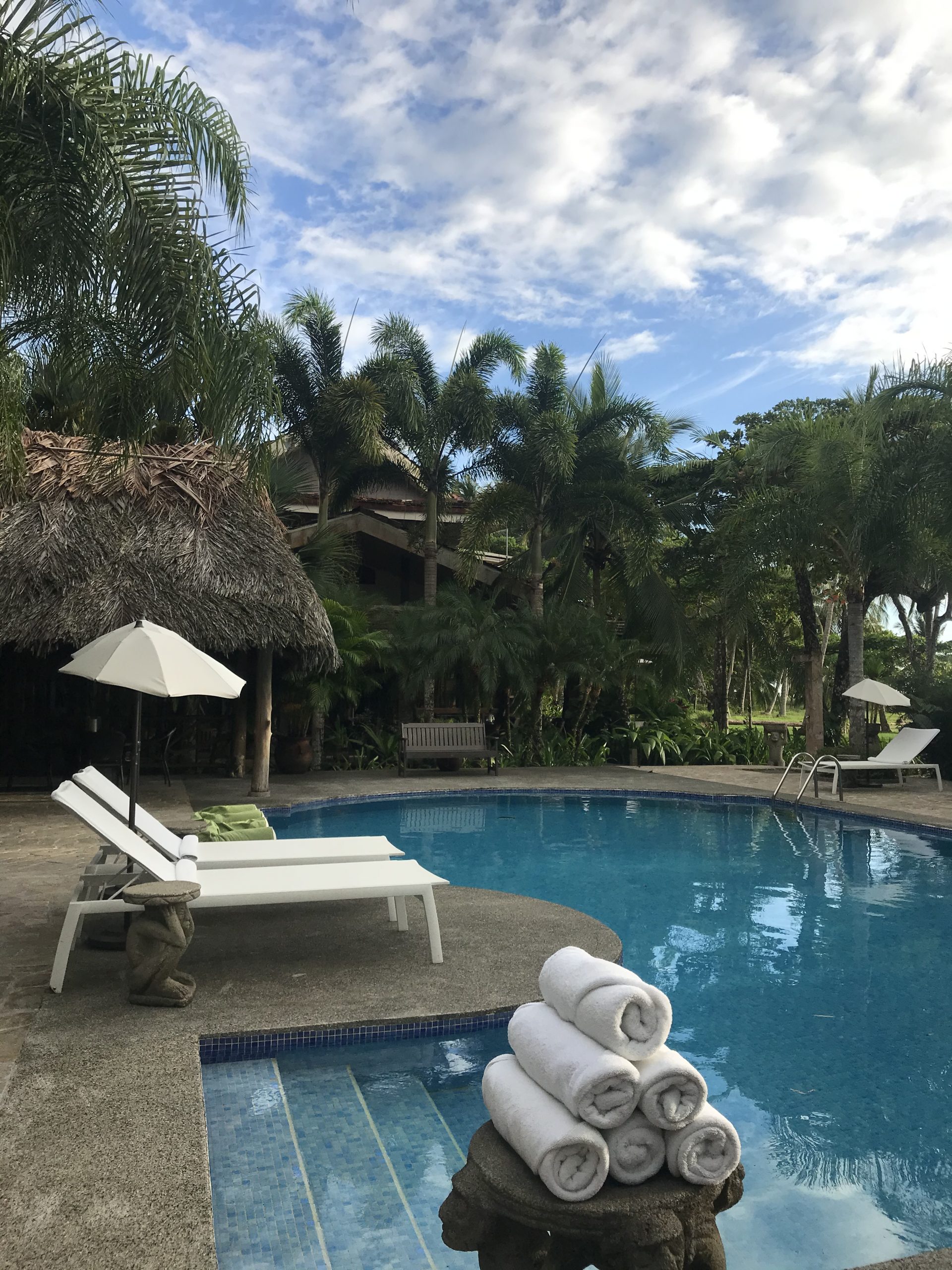 The Food – More Please
Like every other aspect of this lodge, the food is carefully prepared and tastes otherworldly. Every dish is not only delicious, but beautifully presented as if they are competing on Top Chef every night. The Gamefisher's menu concept is the brainchild of Chef Cosmo Goss (US 2015 Forbes – 30 Under 30) who provides on-site semi-annual training to our talented Zancudo crew. Chef Goss masterfully blends local Costa Rican flavors with his innovative cuisine resulting in the creation of a sophisticated, yet hearty menu especially designed for our most discriminating guests. With locally sourced, organic (sometimes from the grounds of the lodge itself) fruits, vegetables, and spices to compliment the fresh fish and imported meats the Gamefisher restaurant is on another level. Each night at 6PM three amazing courses are served consisting of an appetizer, main course, and desert. We went from fresh mahi on a bed of  pasta to  grilled pork chops and on my final night fresh tuna steak that was more like a giant tuna filet mignon seared to perfection with a rare center. The deserts were outstanding with homemade ice cream and brownie, apple crisp, and a ice cream over a coconut roll while I was there.  As you might expect, fresh sashimi was always flowing as the tuna catch in recent years has been phenomenal thanks to groups like FECOP (Costa Rica Sport Fishing Federation) That pressure the government to push seine fishing further of Costa Rica's coast. This makes for happy anglers both on the water and at the dinner table with not only better chances of getting in the chaos of a tuna frenzy…but also an improved marlin and sailfish bite as the bycatch from the seiners has been greatly reduced compared to a decade ago.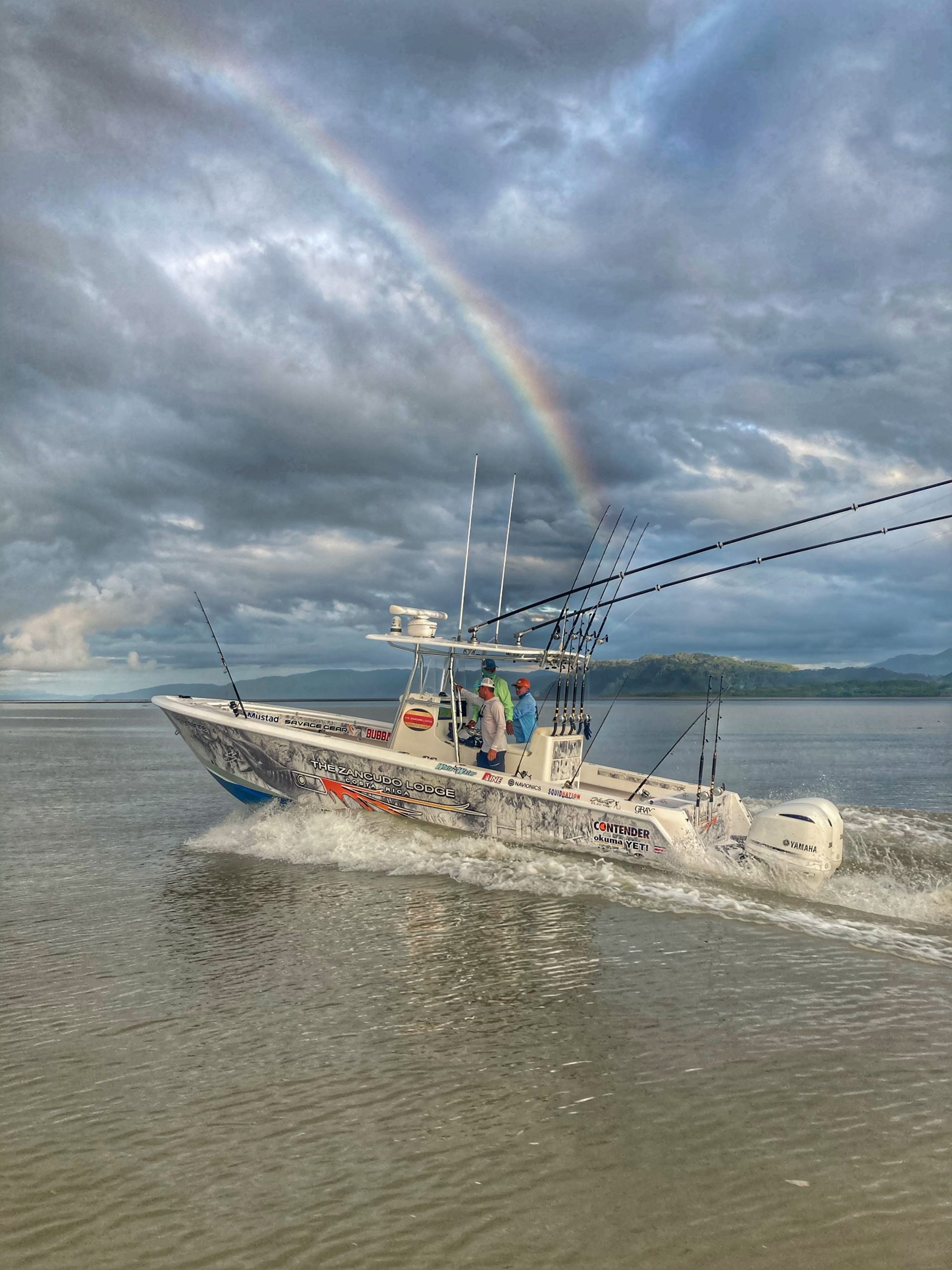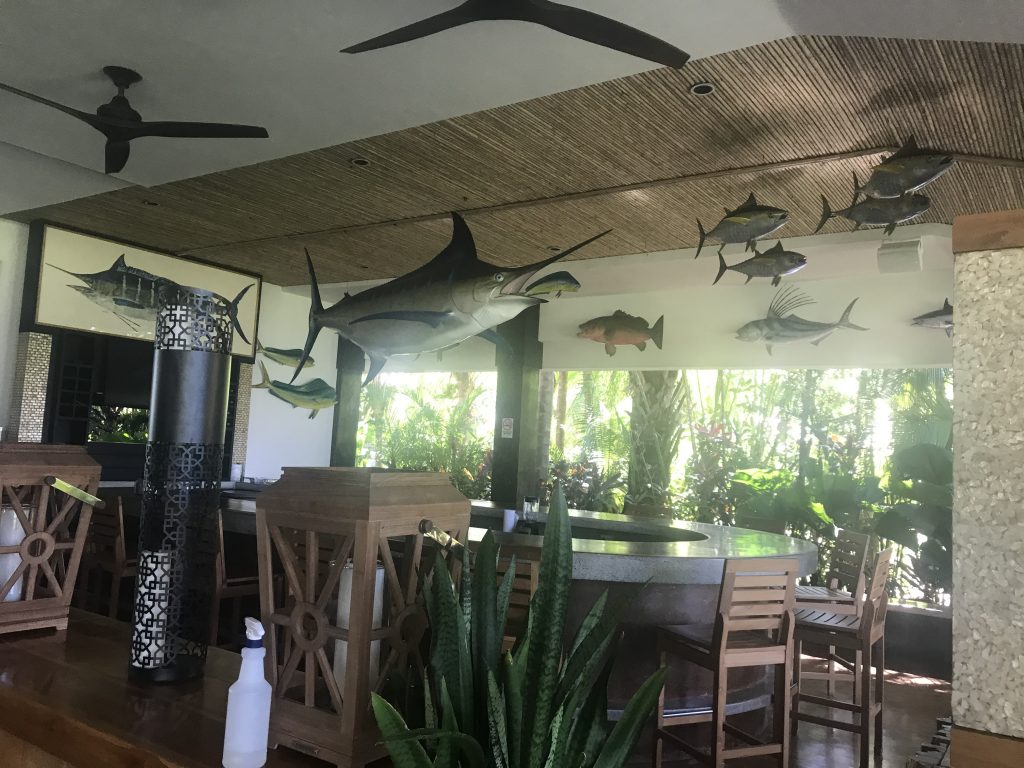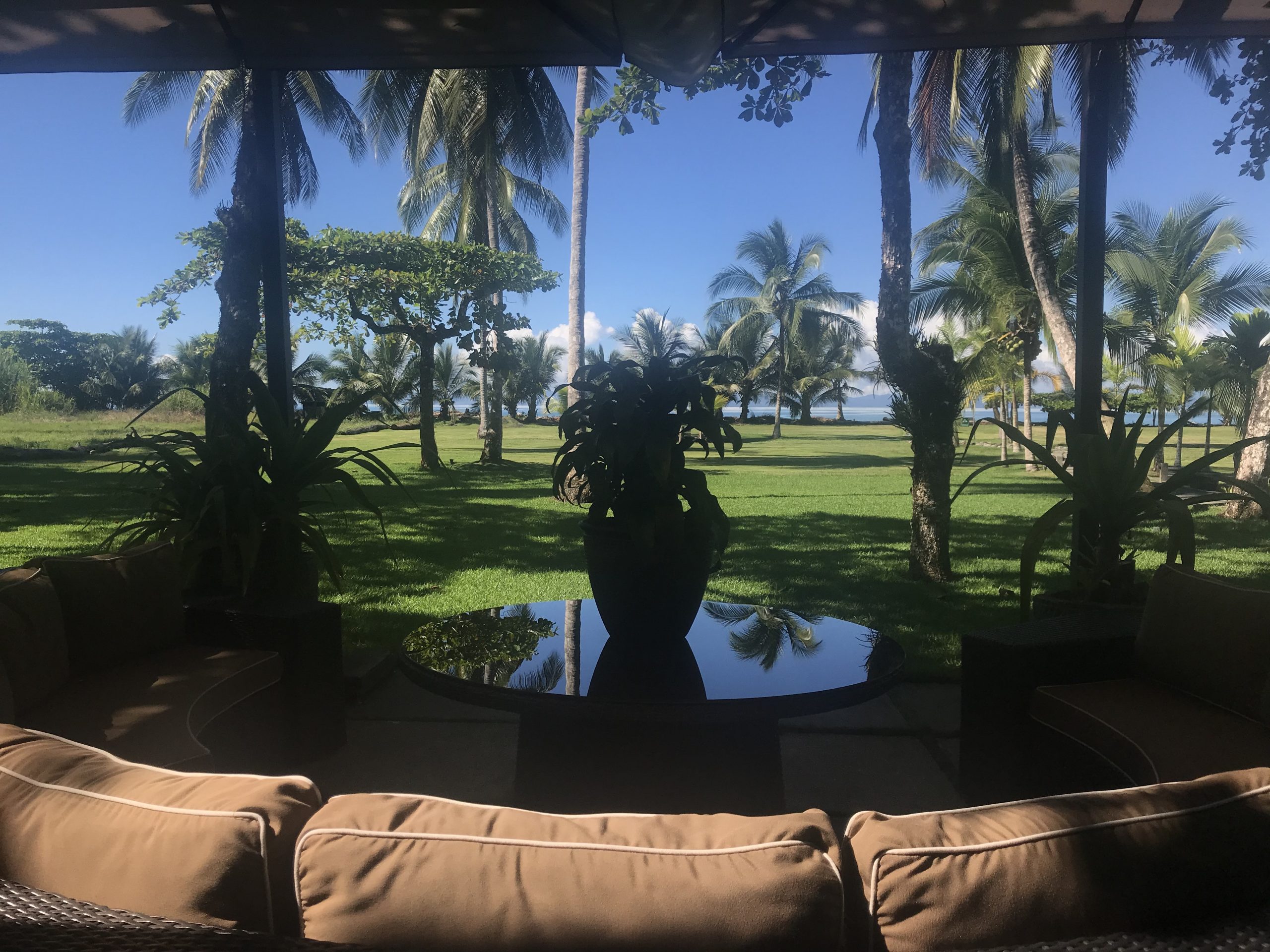 While dining at the open air bar and restaurant  you'll experience sweeping ocean views with a  beautiful pool just to the right nestled in immaculate, manicured tropical plants and lush gardens. This combined with the sounds of the birds and reptiles will  make you completely loose yourself in the magic of Costa Rica. This is the kind of reset that everyone should experience and The Zancudo Lodge should be a mandatory post quarantine ritual for everyone!
Accommodations for a King or Queen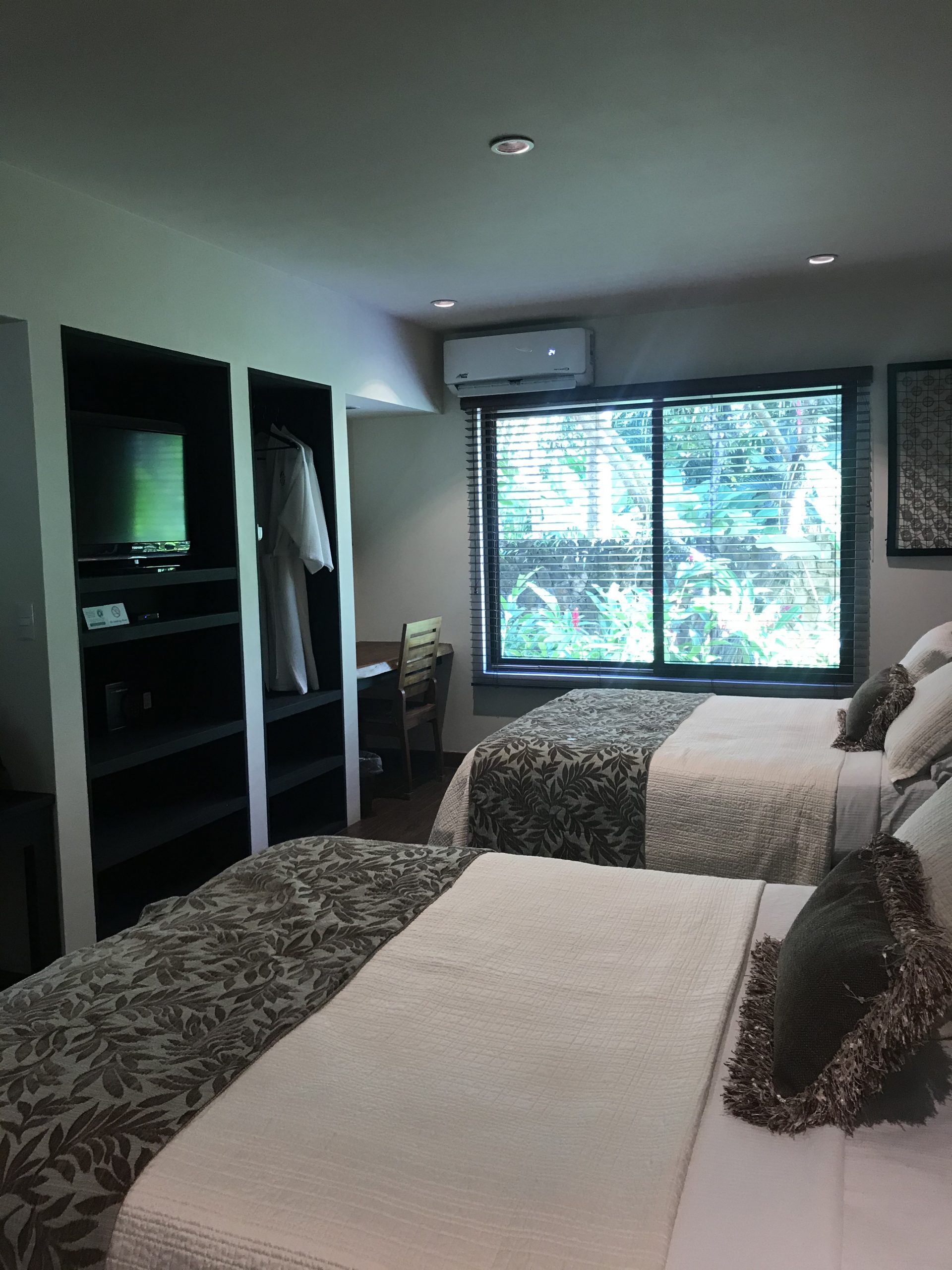 And finally, after ten hours on the water yet another great feature of this spectacular fishing lodge (more like a Ritz Carlton) reveals itself – the rooms. Big comfortable beds, powerful AC, large bathrooms with ample counter space and walk in tempered glass showers are miles over the top compared to the average jungle fishing lodges sprinkled throughout the country. Unlike other high-end hotels or resorts these have been designed with the angler in mind – rod holders at the entrance to every room with well thought out places to stash and hang gear after a day of fishing. Tropical hardwoods, unique ceramic tile in artistic configurations and other exotic fixtures provide a visual feast making the amount of thought and work that went into the design of these rooms more than obvious.
When To Visit
December is the beginning of peak season and the sailfish bite just gets better in February and March (through April). The great thing about this lodge is that it's position on Costa Rica's beautiful Goflo Dulce allows anglers some of the best year-round inshore action anywhere in the world. Sailfish and Marlin as well as other offshore gamefish can be released year round – but not in the same numbers as December through April. June, July and August see striped and black marlin in the mix with the blues and in November the humpback whales make their annual migration from Antarctica to the Golfo Dulce. Anglers here between August and November will almost always see whales and their calves in the gulf. Another standout feature that will delight just about any angler is the passion and skill with which these captains and crew pursue tuna. Getting into a tuna frenzy complete with dive bombing birds and acrobatic spinner dolphin is on just about everyone's "once in a lifetime list" with new radar systems for finding birds and spinner dolphins and captains with the experience and the gear to  battle even the biggest tuna. The Zancudo Lodge will put you in a better position than just about any other lodge in the region when It comes to finding tuna. There is no reliable tuna season like there is with sailfish and marlin, but these lodge captains can find them 5 out of 7 days.
Thanks to a new bill passed by Costa Rica, large scale industrial purse seine boats are being pushed to 100 miles off the coast. This has created an explosion in tuna over the last couple of years. It also leads to reduced bycatch of billfish, especially marlin, which makes the offshore bite that much better. Combine this action with the world class amenities and ambience of this small distinctive fishing lodge and you have the perfect vacation in one of the worlds most amazing tropical destinations. The owners really check all the boxes to make sure your trip runs without a hitch from arriving in San Jose to your quick 45-minute local flight to the lodge. The only thing you'll be left wanting after your return home is the rebooking form – You'll definitely be hooked.
Gearing Up for Greatness
The boats and gear are top of the line. You can tell the gear was chosen specifically to meet the pressures of the blue water monsters and inshore beasts that cruise the waters nearby. Okuma rods and reels with battle ready Okuma Makiara reels, Squid nation, SavageGear, 32' Contenders sporting dual Yamaha 300s. The shop at the lodge features miles of Huk Gear with logos, Costa Del Mar Sunglasses, Yeti products and more. The captains are local and the lodge has a very low turnover rate with most captains being with the lodge for years. They offer as much or as little help as you need depending on your skill level and get you on the fish! Communication is key during any successful fishing trip so the captains all speak English (some better than most gringos). They are competitive and passionate anglers just like you, but when you are on the boat, you're the boss. They know these waters better than you, so it is our recommendation to listen to their advice about the best species to pursue any given day. But in the end it's all up to you. You have just experienced The Zancudo Lodge – and we're pretty sure you'll be back.
Getting to the Lodge
Costa Rica is only a two hour and forty-minute flight from Miami or Houston. Fly into the Juan Santa Maria Airport (SJO) in the Capital San Jose. You have the option to overnight in a hotel there or you can be on a hopper plane for a scenic 45 minute flight over the coastal rainforests to the blue waters of the south Pacific the same day. They pick you up at the Golfito airport or Banana Bay Marina about 30 minutes away.
Birdseye View of The Zancudo Lodge
Area fished: Southernmost Costa Rica out to 12 to 45 miles; up to 60 miles for FAD fishing
Years in operation: 32
Getting here: 45-minute flight from San Jose to Golfito
Fleet: Five 32-foot Contenders with twin 300 hp outboards, five 28-foot open-fish pangas with single 140 hp
Crew: Captain only unless mate or mates requested
Season: Year-round
Accommodations: 12 standard rooms, two junior suites, two master suites
Tackle: Okuma Makaira 10-, 30-, and 50-pound lever-drag reels and Okuma Azores spinning reels
Average run to billfish grounds: 30 minutes to an hour
Fishing day: 6 a.m. to 4 p.m.
Cost: $1,750 for Contender, $995 for other boats; $1,750 for 45-mile FAD trips and $2,050 60-mile FAD trips
Comments: Many improvements made in this boutique lodge by new ownership the past several years; lodge located on the beach