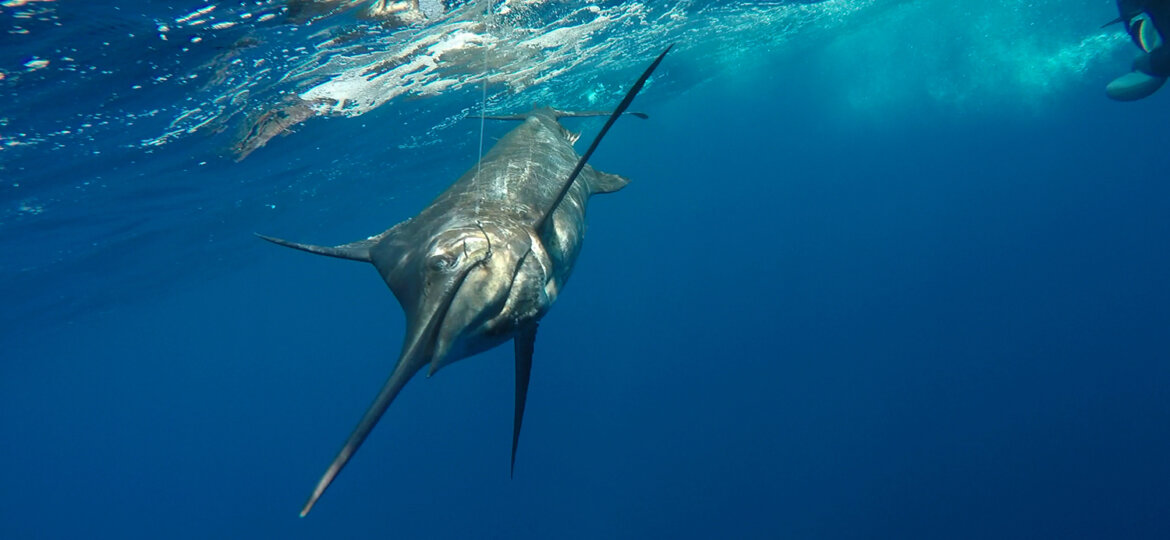 What started out as a hunt for marlin turned into my first grand slam!
What started out as a marlin hunt at The Zancudo Lodge turned into my first Grand Slam!
The best way to get a good feel for our lodge and Costa Rica marlin fishing is to hear about it from our guests!
I've been meaning to sit down and write to you, but until now haven't had a chance.
I just wanted to let you know, once again, that you and The Zancudo Lodge truly set the standard for an incredible fishing experience – what started as a trip in search of Costa Rica marlin turned into so much more.  As you know, this was the Tenth annual trip to Zancudo and the Law of Diminishing Marginal Returns has been overturned.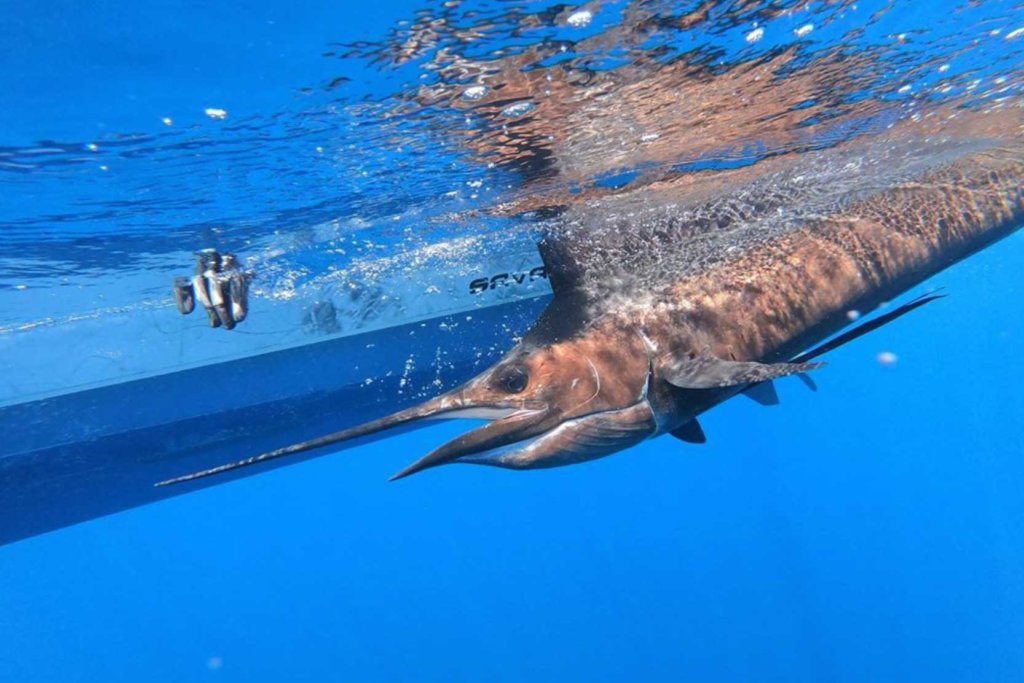 Starting with Fernando meeting me at the airport in San Jose with excellent service to our hotel and picking me up right on time in the morning to catch the Sansa flight. Javier and Tito met me in Golfito with a handshake and a smile, and at that time I knew this was just the beginning of another awesome experience in Costa Rica.
After being waited on hand & foot and having all of my stuff taken to my room for me, I had a quick breakfast and we were out on the water within minutes.  I don't know if Javier told you this, but we were just on our way off-shore when we decided to work a school of porpoise. I dropped a live Blue Runner, slightly weighted to get down deep, and  within fifteen seconds of my week long experience I spent the next 3 hours and 40 minutes fighting a 185 lb. Yellowfin Tuna. How's that for starting out your Costa Rica fishing vacation.
The next day was full of Sailfish and and many other smaller Tuna and Durado. Another awesome day.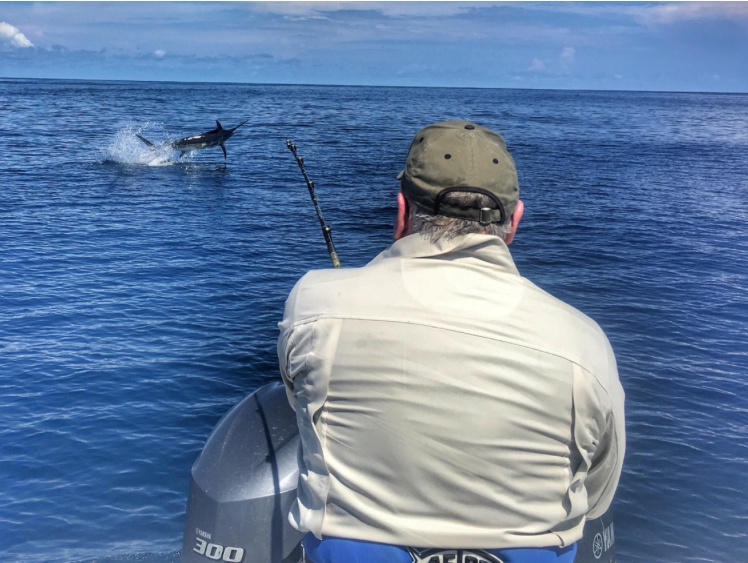 Let's see……Wednesday at exactly 9:30 we hooked up, caught and released a 300 lb Blue Marlin.  We were strictly Marlin fishing, but had Sailfish all over us all day long. Towards the end of the day we decided to hook a few for kicks and giggles and then came in. Again an awesome day.
Thursday, we were back at it in the same area as the prior day and guess what happened at exactly 9:30 ?  The man in the Blue Suit (Costa Rica marlin) came up for lunch and we gave it to him. Yes, another Blue Marlin slightly under 300 lb.  Then came along a very feisty Bull Dorado in the 30 lb. range. We heard reports of Tuna offshore from another one of your boats, so we trolled in that direction and within minutes we caught and released a nice Sailfish on light tackle (what a blast !!)
Javier then got on the horn with John and asked, "John can you give me one Tuna ?"  John gave him the coordinates, and then it was hammer down in our quest to complete the Grand Slam. 9 miles to go. Will they still be there ?  8..7..6..5..4..3..2..1.."There I see John's boat and a few birds…….Wow !! That looks like a lot of birds.  Holy Crap !! Look at all these Porpoises….Look at all the Tuna jumping out front…..Unbelievable !!"
This was truly a most tremendous sight. This melee was at least 1/2 mile wide and 1/2 mile in length. It was a massive feeding Frenzy. We saw hundreds of Tuna and only needed one.  Well, I don't have to tell you what happened next, because you already know. Yes, we got the Grand Slam (my first) and we came home.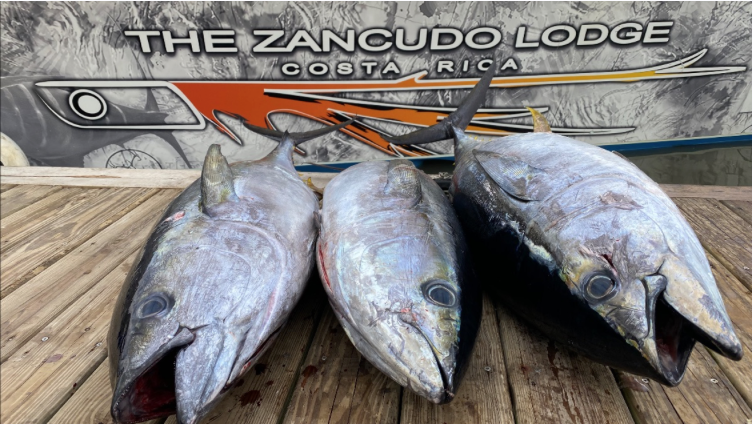 Do you know what the best part of that experience was…..That your captain, Javier wanted it as badly as I did. Here's this guy that does does this every day, but he comes out with the Zeal of a once a year vacationer. I have to say that about all of your captains. They want to catch fish !!
I should have gotten names for you, but the entire first-class section of our flight back to the States consisted of a group of ten that fished in Los Suenos and a group of four who fished out of Quepos for the same duration that I did.  They all seemed to have a reasonably good time, but I'll put it to you this way. Nobody was smiling and beating their chest like I was. My pictures were being passed all over the plane. Both of these groups said they will be booking with Zancudo Lodge next year, and I'm not kidding.  Gregg, you're doing a great job with the place with everything that you can control, and it's even better when the one area that you can't control…..The fishing  is great too.
Thank-you for the memories of a lifetime. These things are invaluable.
Tom B.
Thanks to groups like FECOP who lobby the government to push out commercial fishing fleets, the Costa Rica marlin and tuna bite just keeps getting better in Southern Costa Rica.